An Introduction To The Sport Of Rodeo
Written by Mike Puhallo
Photos courtesy of Tommy Engerbretson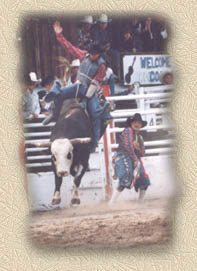 The sport of Rodeo is a haven for the last truly independent athletes in the world. In this arena you are only paid when you win, your opponent often outweighs you ten to one. In these dangerous sports, rodeo cowboys pay their own traveling expenses and doctor bill
Scoring for the Roughstock Events!
In most cases two judges are used. Each judge scores each animal and each cowboy's performance on a scale from one to twenty-five. All four of these scores are totaled to give a final score out of one hundred. Essentially the animals are scored on how difficult they are to ride, and the cowboys on how well the ride is accomplished.
In the riding events the cowboys must ride with one hand, and must not touch the horse or bull, their equipment or themselves with their free hand. In the Saddle Bronc and Bare Back riding events the contestants must also contend with The Spur Out Rule (the rider's spurs must be in contact with the horse, above the "break" of the shoulder, when the horse's front feet first touch the ground on outside of the chute. Many a cowboy has made a great ride only to find out he failed to spur the horse out properly, and received a "0" for his efforts).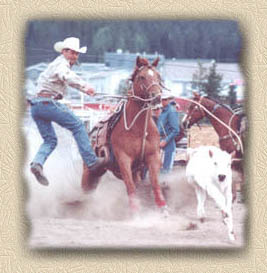 The Timed Events … A race against the clock!
In these events the winners are determined by the speed in which they complete their event as determined by the stopwatch. "The Barrier" is a piece of rope stretched in front of the competitor, which allows the calf or steer a head start into the arena. This rope is held together with a thin piece of string. The cowboy who does not allow the animal a proper head start will "Break the Barrier " and be assessed a ten second penalty. There are also numerous rules in place to prevent mistreatment of stock.
Take in a Rodeo
Double E Guest Ranch - Indulge your Cowboy Spirit at the Double E Guest Ranch with cattle roundups, cayuses, buffalo, trail riding, and the undiluted, raw sensations of southwestern New Mexico. We promise breathtaking vistas, exciting horseback rides on seasoned horses, satisfying meals, a PRCA rodeo each year, and the Milky Way spread across the New Mexico sky!
Western Warehouse - Western wear apparel, boots, hats, jeans and more for your Guest Ranch vacation or your real ranch workday. Satisfying the western wear needs in towns and cities, on farms and ranches, since 1961. Offering quick delivery (free US shipping on orders over $100) and great prices for those who live the life or love the legend.
Rodeo Associations