BETH AND HER ANGEL
BETH AND HER ANGEL
Story by Trudy Frisk
Photos courtesy of Beth Tilden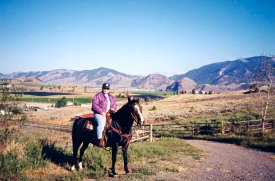 Beth and her Angel - Out on the Range

Beth Tilden can't remember a time when she didn't love horses. During her childhood on the Saskatchewan farm where she was born horses were used for all sorts of tasks. She rode a horse to school or to town for supplies. Beth thinks her natural love of animals including her dog and cherished cats, was enhanced because she and her older sister always helped their Dad on the farm. She got to know animals and appreciate them.

But, when she was thirteen, her family moved off the farm, first to a small prairie town, then, in 1951, to Kamloops. B.C. Though Beth had no horse of her own any more, she still yearned to ride. She always chummed around with kids from the farms and ranches near Kamloops and, naturally, was often invited out to ride with them. "I rode anything and everything." she says. "I just wanted to be on a horse."

With marriage and the arrival of children there was neither time nor money for horses. Then, in 1976, her husband, Bill, was posted to Avola, a small town along the North Thompson river. Beth's new friends there had horses, and, shortly, so did she.

Her first horse, a mare, Grouch, became an identifying name for Beth herself when she and her family moved back to Kamloops where she became active in the Pine Tree Riding Club. Young children learning to ride didn't know Beth's name, or those of many adults, for that matter, but they knew all the horses. They called Beth, "Mrs. Grouch".

Eventually she sold Grouch and bought Lindy a green-broke Appaloosa, which unfortunately, punctured her lung and had to be sold.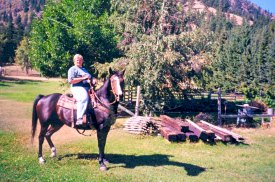 Beth and her Angel - Ready to Ride

Then she found Angel, a well-trained quarter-horse. Angel's owner, forced to sell the horse because she was moving, was so pleased Beth bought her that Beth has always let her know how Angel was faring.

Angel was the horse Beth was looking for. For two decades they've explored the hills and range lands of the Interior.

Although she's ridden a variety of horses, Beth much prefers the quarter-horse. "It's a horse you can do anything with. They can be used to chase cattle, for show, or pleasure riding. They have a good temperament and I like what they do for the ordinary rider."

Even the best horse can be frightened. Beth emphasizes it's the rider's job to watch what the horse is doing. "Never let your guard down." She advises. " Always expect the unexpected. A grouse or even a snake may startle the horse. Learn to read your horse's actions. If it's acting skittish, something's wrong. Watch your horse's ears. Turn it so it can face what's frightening it. " On one ride Angel kept wanting to turn around. When Beth looked back she saw two coyotes following them. On another outing Angel sighted a cinnamon bear long before Beth spotted it.

Once Beth was the one to see wild animals, two deer and a fawn lying in a grassy clearing. Worried that any sudden move might scare Angel, she whispered to her fellow riders not to indicate the deer were present. They rode quietly past without either the deer or horses becoming alarmed.

Being able to see wild creatures is one of the great benefits of riding for Beth. Constantly alert to the landscape she sees animals and birds which accept her and Angel as just part of the scenery. "B.C. has so many beautiful places to ride, most of them right from your front door." She exults.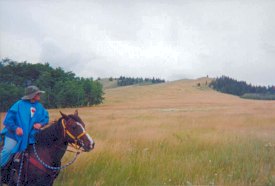 Beth and her Angel - A Rainy Day on the Cattle Drive

To Beth riding is more than recreation; it's a major part of her life. Before she retired she had a very demanding job. "Some days I'd come home feeling too tired to do anything," she remembers. "But, I'd get into my blue jeans, saddle up Angel, and go riding for three hours. After hours in the fresh air, totally focused on the horse and our surroundings, I came home feeling wonderful."

"Horses are interesting animals," she continues, "everyone different. And every ride is a new experience, a challenge. Riding keeps you physically and mentally healthy and active. "

Riding is a social event, too. Whether it's a day's outing with Angel and a few friends, the organization of a club, or the international bonding of Cattle Drive, Beth enjoys the close companionship that comes from sharing a love of horses and the outdoors.

Of course, Beth has ridden on Cattle Drive. Not the first year, though. That year she stood on a Kamloops street corner, watching through her tears as the triumphant riders, many of them her friends, paraded by. She longed to be with them. But, she rode in it next year and for six more years. 1993 was the only year she took Angel. Angel had only ever been ridden with two or three other horses at a time. Suddenly being in a crowd of two to three hundred horses confused her. "There were some scary moments" Beth recalls.

On other years Beth rented a horse for Cattle Drive. She's traveled all the different routes and seen some changes. "In the early years we'd ride from 6:00 a.m. to 6:00 p.m. Now riders get a day's rest., and the daily rides are shorter. " She's been through dust and rain and describes Cattle Drive as "An experience where you put up with a lot of discomfort and still come out wanting to do it again next year!"

When she doesn't ride, Beth helps Cattle Drive as a year-round volunteer. She says it's important to support this event which, as well as giving people from all over the world a chance to experience B.C.'s beautiful ranching country, works to preserve our western heritage.

Even her non-riding friends know how important horses are to Beth. When she retired, her farewell gift was a sheep's wool saddle blanket. And, she has a' God-horse'. At a retiree's luncheon among the pictures of grandchildren being proudly circulated, there were some of a little filly just born to the mare of a former fellow employee. The group unanimously agreed that Beth Tilden was the right choice for its God-parent.

Beth enjoys her travels, from Alaska to Korea but finds her greatest inner gratification comes from the wonderful life she's had with horses. She and her Angel, now twenty-eight, have been together for twenty years, sharing friendship and experiences.

Beth acknowledges a time may come when she can't ride anymore. But, as long as she can, Beth will ride, maintaining that love of horses which began sixty-eight years ago on a farm in Saskatchewan.




Other articles by Trudy Frisk