A HAT IS NOT JUST A HAT!



A HAT IS NOT JUST A HAT!

Story and photos by Trudy Frisk

(Photos of Vern Elliott at 2005 Kamloops Cowboy Festival)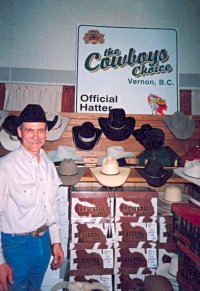 Vern and his Hats
Vern Elliott makes, sells and repairs hats. From his shop, The Cowboy's Choice, in Vernon, B.C., he travels to rodeos and cowboy festivals. He's researched the construction of western hats. And, he has strong feelings about those hats.
"A hat", says Vern, "is not just a hat. For the rancher a hat provides defense against rain, sun or brush; it adds to the style of trainers in the show world and even gives rodeo riders a certain amount of protection when they land."
Vern speaks from experience. For years he was a professional rodeo competitor, a bull rider and team roper. In 1986 he and his partner, Leo Louis, won the Canadian team roping title.
Actually, that's how Vern got started in the hat business, selling hats to fellow rodeo riders. "Rodeo contestants," he notes, "are the hardest on their headwear of anybody in the business. They're also the most concerned about how they look. The hat is the first thing people look at. The photographer isn't focusing on the belt buckle!"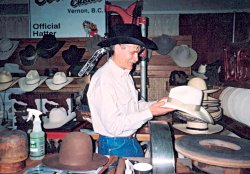 Selecting the right Hat
"But, " Vern continues, "nobody repairs hats anymore. The hat companies don't look after the maintenance. It's quicker and easier to sell a new hat than to repair an old one." To a cowboy who'd just gotten his favourite hat to sit just right, or who didn't think of his good felt hat as disposable, that hurts. Vern decided to fill the gap.
He toured the master factories of the big h at companies to get information on the use of equipment and details of construction. Hat equipment hasn't been manufactured since the 1930s and none was available in Canada. Painstakingly he tracked it down, bought it and brought it home.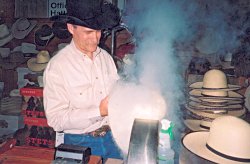 Steaming the Hat
"There was no single place to go to learn how to make hats and few willing to share knowledge or expertise. I learned by doing."
Vern remembers. He often travels to Texas because there are more hat repairers and fixers there than anywhere else.
"It's hard work to do a hat correctly." Vern notes. "It's not very technical, but it's labour intensive. And the old machines aren't computerized!"
The hat industry, he feels, is the most misunderstood department of western wear. Hats are complex blends of material specially designed for different activities. A sweat band alone can be made from five different materials: cotton, nylon, reconstituted leather, cowhide, or sheepskin. That's just the sweat band! When Vern makes or repairs a hat, he always puts in a sheepskin sweat band. It's the most comfortable.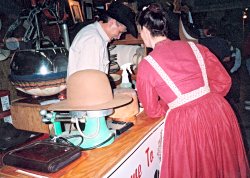 A Curious Customer
Customers and their hats have very different requirements. Right now Vern's making some hats especially intended to be snow and rain resistant. Their owners aren't primarily concerned about looks. It's different in the horse event world. "If you're showing a $100,000 halter horse, you want a fine looking hat. Durability isn't the main concern..", Vern states.
"Companies make hats for people; we make hats for individuals", is how Vern puts it. "Cowboys are very specific about the hats they want. The more you pay does not necessarily make the hat better. A high end hat may not be more durable. Rodeo cowboys buy hats for durability. They know they'll get bucked off and land on them. "
Some of Vern's customers tell him . "Here's what I do, send me the hat that's right for what I need." And he does, taking into account not only the person's occupation, but physical features as well. "Someone tall and slim with a narrow face needs a hat to suit him or her."
Cowboy's Choice isn't much into fashion hats. They don't sell pink and light blue. His primary customers are ranch and rodeo cowboys and horse event people. He's seeing a second generation of rodeo riders coming to him for hats, kids of the guys whose hats he used to do on the rodeo circuit years ago.
Vern and his wife Mona ship hats from their Vernon store to clientele in the U.S. and across Canada. "Trainers from all over North America call us on a regular basis for their hats." Vern says. "Hats are now worn more than they were ten years ago. The horse industry, particularly cutting and reining, is becoming popular in Europe." Those people all need hats. Customers from Switzerland and other European countries traveling in Canada stop in Vern's shop to buy their hats.
Vern is very proud of repairing hats. "Before we could repair and re-do them, a cowboy wore either a bad-looking hat or a ball cap. " Cowboy's Choice concentrates on bodies that can be fixed. The hats are cleaned, degreased and repaired. Then, with a grease cloth, a bit of grease is a put back in. Using a pastel colour, some colour's added back into the hat. Both felt and straw hats can be steamed and formed to the desired shape. "Just bend it and let it cool off."
Vern takes before and after pictures. "It gives me personal satisfaction to take an old beat-up hat and make it useable again!"
A hat isn't just a hat, it can become an old friend.
Other articles by Trudy Frisk