HORSE PAINTERS
HORSE PAINTERS
Story and photo by Trudy Frisk
Appreciation of art is an intensely personal matter. Picasso people denounce Bob Bateman buddies. Traditionalists scoff at impressionists and both abhor Andy Warhol. What would these critics make of the Moneighs?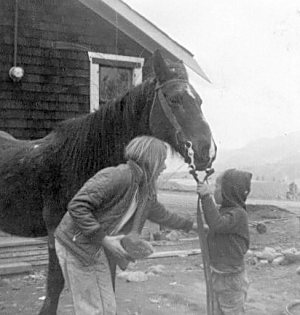 Encouraging a Reluctant Artist
Moneighs are original paintings made by star thoroughbred race horses, auctioned off to benefit their less fortunate fellows. The word 'Moneigh' combining the name of Claude Monet, famous French impressionist and a horses' whinny, is the trademark of Kentucky based ReRun Inc. ReRun, an all volunteer organization, is devoted to finding adoptive homes and second careers for ex-race horses. It's successfully retrained and placed hundreds of retired racers as jumpers, hunters and dressage horses.
Everyone who's seen the cold white hand of retirement beckoning, who's not spent much time in the winner's circle lately, who's feared waking one morning transformed into a glue stick, must sympathize. But, horses painting? How?
The horses paint using their noses, lips and tails. A few adept equines hold paint brushes in their teeth. As you would guess, all their works are abstract. They have no special studios: they paint at their stables using non- toxic paints on archival paper. A few treats convince the horse that this messy activity is rewarding. The completed work is signed with a hoof-print and a bit of the horse's mane or tail attached.
As always, there are skeptics. "Does the horse get to pick the colours? Is there much human intervention?" one queried. The answer is yes, and no. Some paintings are in the horse's silk colours and may even be co-signed by the jockey. Generally horses just chose from a palette offered them and daub away. Most horses don't choose yellow, though. Each horse has its own method: some are dotters, others smushers. Every painting is unique.
Do I detect snickering in the background? "Who'd buy a horses' painting?" The prices tell the tale. A Smarty Jones Moneigh brought $2,000.00. Some have fetched $5,000.00, but the average is $l,000.00. At private auctions and on e-Bay race horse lovers are voting with their dollars. After all these aren't just any artists; they're the winners of the
Breeder's Cup, the Preakness and the Kentucky Derby.
What about less famous horses, the humble but necessary horses of the West, the cutting horses, plow horses, and family riding horses? Don't they deserve consideration in their old age? Is an indigent Morgan or Clydesdale less worthy of a good home in retirement than a race-horse? Try to explain to Hershey or Pat that doing their best doesn't guarantee them a warm stable in winter and a bit of oats once they slow down.
Possibly ReRun could expand its activity to include the important, though less famous Western equines. Imagine Moneighs by notable cow ponies or champion barrel racers.
Is it art? They have been described as showing the same broad flourishes of colour and bold feeling as human artists. Betty Barker, who's seen plenty of Moneighs on television commented, "They paint better than elephants." Long pause. "And, they paint better than some humans, too!" Miro and de Kooning, watch out!
(Kudos to the Kamloops Art Gallery for including a collection of Western cowboy artists in its displays this winter. In the main gallery hung British masters from Turner to Morris. In the 'Cube" next door were Arnold Mosley and other regional cowboy artists.)
Other articles by Trudy Frisk