SELLING NOSTALGIA
Story by Trudy Frisk
Photo courtesy of Benito Montagliani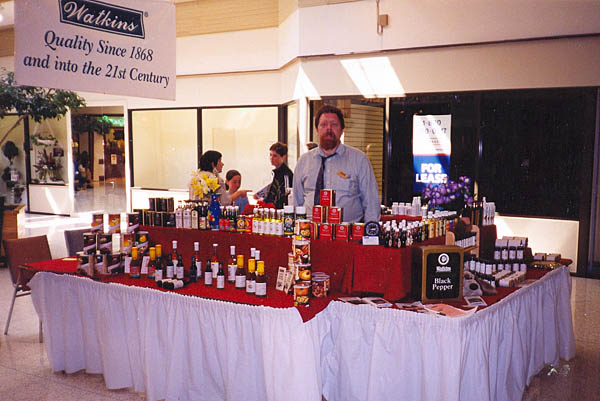 'Benito Montagliani, Watkins man.
Benito Montagliani is a Watkins man carrying on a sales tradition almost as old as Canada.
Canada was founded by the original three provinces in 1867.
In 1868 Joseph Ray Watkins of Winona, Minn. established the J.R. Watkins company. It all began with liniment. Joseph was so certain that his preparation was superior to others he offered to refund his customer's money if they weren't satisfied. The world's first money back guarantee got public attention.
From liniment Watkins increased his stock and activities. When he began setting up sales territories, the West was still a wild place. There were no paved roads, let alone automobiles to drive on them. Transportation was by horse, foot or canoe. Watkins men made their rounds in buggies or on horseback.
In both Canada and the U.S. these were tumultuous times. The American Civil War had ended in 1865, and Americans were coping with the aftermath. Some, who still cherished hopes of driving the British from North America, encouraged the Fenian raids on Quebec and Manitoba in 1870 and 1871.
Canada was determined to defend itself. In 1871 the federal promise of a trans-continental railway, from eastern to western Canada lured the Crown Colony of British Columbia to join Confederation.
There was a lot of land between Victoria and Ottawa and people lived on that land. The buffalo-hunting Metis of the Red River settlements viewed Confederation, the railroad and increased immigration as a threat to their freedom and way of life. They were absolutely right. The Riel Rebellion of 1869-1870 failed to halt on-coming change.
During all this political and social upheaval J.R. Watkins persevered. His products and representatives were welcomed on both sides of the border. By 1928 Watkins had offices and factories in Winona, New York, Chicago, Newark, Columbus, Kansas City, Memphis, Oakland, Montreal, Hamilton, Winnipeg and Vancouver as well as outlets in Europe and South America. Watkins' combination of door-to-door selling and a money
back guarantee was paying off.

It was a very different world in the 1800s. There were few large cities in North America. In Canada in 1871 eighty percent of all Canadians were rural. The typical Canadian was a farmer, logger or fisherman. The choices of large department stores were beyond their reach. To these rural customers it was as if an entire department store drove up their lane
when the Watkins man came to call.

The list of Watkins products in the Watkins cookbook of 1948 shows an astonishing variety of items. Food products, dietary food supplements, desserts, beverage bases, spices, extracts and flavours, were only the beginning. There was a wide choice of household medicines, including the original liniment, adhesive tape, beef, iron and wine teas, mustard ointment, corn pads, milk of magnesia , vapor balm and sarsaparilla. Watkins made contacts in the herb and spice industries and showcased pure products.
Toilet articles ranged from cologne and bath salts to creams; cleansing, foundation, and vanishing; face powders varied from natural to nut brown. Nor were gentlemen forgotten. Watkins' General Line, included aftershave lotion, brilliantine hair oil and fragrant pomade as well as mouth wash, scalp zest and talcum powder. Toilet soaps included pine tar. Cleansers and household aids offered granular soap, machine oil, house fly sprayer, pencils, perfumed starch, moth crystals, and razor blades.
Animals weren't forgotten. Mineral compounds for hogs, poultry and stock were available. Veterinary preparations offered calf capsules, cattle grub powder, mange oil, poultry drinking water sanitizer, and veterinary salve.
Insecticides from which the farmer could chose included stock dip, roach spray, roost paint, fly spray, plant spray, farm insecticide and insect dust.
Some of the items for sale in 1948 appear out of place to us today, DDT powders and sprays, for example, or ephedrine nasal jelly.
Given the choice of products and convenience of delivery, no wonder the Watkins man who called was frequently invited to say over night or even for the weekend. His gifts of treats for the children just added to his popularity.
Women couldn't vote in 1868, but, if they sold eggs or produce, they had money to spend. Watkins recognized this and catered to the housewife, highlighting items to save her energy and time, things she could tell her friends about. Because some of the items for sale might be new to a mostly immigrant population, Watkins gave them tips on how to use them.

Benito Montagliani, when he began selling Watkins products ten years ago, didn't realize how important a role Watkins had played in the lives of rural residents. He, himself, hadn't heard of Watkins.. When he wanted to make a little extra money, his girlfriend remembered that her mom had loved Watkins products. Benito decided to investigate and was impressed. .
He had no idea, when he set up his displays in malls or small flea markets, that he wasn't just selling items known and respected for over one hundred years, he was bringing back memories. People would stop and reminisce. "When I grew up on the prairies…" they'd begin. Or, "My Mom used to cook with that!" Most nostalgic customers are over sixty, but younger people are also interested. A lot of them have personal product stories, such as the fellow who puts medicated ointment in water and drinks it. "If it works," says Benito, "how can you knock it?'
Some items aren't available anymore, so customers improvise. Today's Watkins products aren't recommended for animals, but one dog owner put salve on a bad cut on his dog's and " it healed fine.".
Benito himself is fascinated with herbal remedies. He enjoys and encourages the customer's stories. "Half the stuff we know came from the stories people passed on. We have to remember the stories."
"Canada's known for hockey, but, if you talk to the housewife, or people who grew up in the West, it's known for Watkins."
People go looking for Watkins, so Benito advertises in local papers and has displays at 4-H and SPCA events. He has enough loyal customers to make a good part time living.
There are no territories anymore so he sells out of his house. Door to door deliveries are a thing of the past. "It's probably more dangerous today than it was years ago. Then people were glad to see company. Now they're suspicious of strangers."
His customers come from all over. He's had people from the Caribbean call him because they couldn't find the product they wanted there, and ask him to ship it to them. Another customer took Watkins anti-bug lotion to Thailand. Benito's proudest moment came on a trip to Italy when his aunt tried Watkins cooking spray instead of butter in a traditional dish. "She loved it!"
Watkins has always tried to reflect and adapt to the times. The 1948 cookbook was published when wartime shortages were still being felt. "How To Meet The Butter Shortage" instructs housewives how to use margarine or to extend butter. Other economical substitutes are suggested, along with their vitamin content. Today, to meet environmental concerns, Watkins home care products are becoming more green.
2008 is the one hundred and fortieth anniversary of a company which has flourished from pioneer times into the space age. When it began, women couldn't vote, today a woman is in the running for U.S. President. Through world wars, depressions, the fall of empires and great social change, Watkins has been part of North American households.

Other articles by Trudy Frisk