'But, Is It Bluegrass?
Story by Trudy Frisk
Photo of crowd by Trudy Frisk
Photo of fan by Lynne Mugford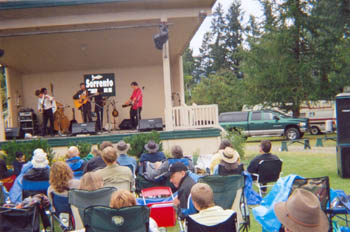 Sorrento, 2007

Bluegrass fans could give lessons in loyalty. At outdoor festivals they sit for hours under blazing sun, or chilly snow, absorbed in the music. In rainy weather the audience doesn't scatter for cover. Out come ponchos, umbrellas and tarps for family groups. They're dedicated.

"The three worst things that ever happened to bluegrass were 'Deliverance', 'Hee-Haw', and "The Beverley Hillbillies'" fumes George McKnight. The movie and two TV shows perpetuated the image of anyone who enjoyed bluegrass as a bib-overalled, straw-chewing bumpkin.

George resents that. He's been master of ceremonies for more than two hundred bluegrass festivals. For over twenty years, as a broadcaster, free-lance writer, and musician, he's promoted bluegrass music. Few can match his background and depth of knowledge.

George doesn't just admire the music; he has a good grasp of the economics of festivals. Bluegrass fans are in the upper age group, thirty to thirty-five years and up. Twelve years ago market research determined that an average festival-goer at U.S. bluegrass events earned $80,000.00 a year. Festivals are reliable economic generators for the communities which host them. For every $l.00 it spends on the event, fans spend $l0.00 in that community.

Of course there's more to bluegrass than economics. In fact the saying among musicians is, "If you want to make money, don't play bluegrass." "Of the bluegrass bands well over fifty percent never had a music lesson and don't make any money. It's pure heart, pure talent-driven expression. They're happy people; they like what they do." George says." Because it never had that big an audience, the big money interests don't care that much. Bluegrass is not driven by dollars. "

"It's a true art form." George asserts. And, like most art forms, it's changing and expanding. "That's a good thing. We don't live in the 1800's; we live in 2008. Bluegrass will always honour the old traditional music, but that's not the focus of today."

"The foundation of bluegrass was laid down by people with no education, extremely talented people such a Benny Martin, a great fiddler who developed his own style but never took a lesson. Bluegrass happened primarily out of the heart. Fifty years ago a musician played it because he liked it or couldn't live without it. "

"People now are fine tuning and developing it, making it acceptable to a greater and broader audience. They're playing a better song in a better way, making it sound clearer. People are determined to play a higher and better quality of music. There's an increasing skill level."

Bluegrass originated as music of the people. Now there are bluegrass camps with instructions and coaching. Colleges and universities such as East Tennessee State U. offer degrees in bluegrass. Maybe that's good. But, will it still be bluegrass?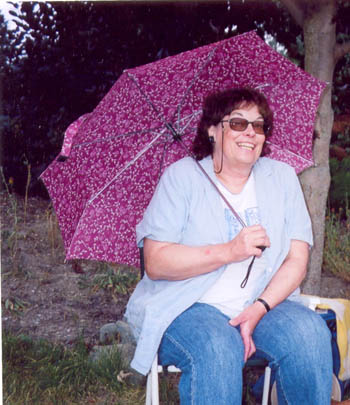 Bluegrass Fan

People who know bluegrass talk of the friendliness. "It's more co-operative than any other form of music I've ever seen." George reports. "A bluegrass musician comes off stage, he's looking for somebody to jam with. Even big stars are totally down to earth. Bluegrass players always want to be in the middle of the biggest crowd they can find. I've never seen one with an entourage designed to keep people away. "

For a festival-goer, the impromptu jams on the grounds are often as interesting as what's happening on stage. Some musicians are reporting that jams are disappearing from the new festivals, that they're less social.

"Bluegrass has remained true to itself. It has no special effects, doesn't glitz itself up. It relies on talent and creativity practiced in a real and honest way. I've never seen people get along better than when they're making music together. There'll always be a place for both the amateur and the pro in bluegrass. The big festivals connect the bands with the audience, widens the audience so more people become appreciative of the music." George says.

As bluegrass widens its fan base and its scope, it's bound to change. Bluegrass has always been music of place and people. As it gets further from its roots, the line between bluegrass and world music, or fusion becomes thinner.

In 2007 a festival crowd sat placidly through a day of intermittent rain waiting for the 9:00 p.m. headliners, from North Carolina. No doubt they were a great group. However, they began with a song in Bengali about a fisherman in Bengal. After a couple of verses, many in the audience gathered up their soggy blankets, folded their lawn chairs and left.

As George points out, "Nothing in bluegrass is forever." But this music was played before the formation of Canada and the U.S. It's been what George refers to as "Home and heart kind of stuff; pickin' and playing and having fun."

The future? "Bluegrass is never going to die. It's too very vital to too many people, musicians and the fans. Besides, it's fun!"

Let's hope that never changes.





Other articles by Trudy Frisk