WINTER FASHION
Story by Trudy Frisk
Photo by P.W.
When the winter chill sets in fashion is the first casualty.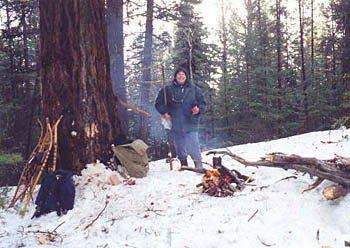 As the snow falls interminably, the temperature drops like an auctioneer's cry in reverse, "Minus seventeen, minus twenty-one, minus thirty-five!" , wind flails the house and barn, the dogs pretend they've always been house dogs and the horses insist that, if the dogs are coming inside, so are they, the choice is between style and survival. Most people don't hesitate; they choose survival. Or so I comforted myself when, after staring horrified at the thermometer and watching the five day weather forecast, I began rifling through cupboards and closets for true winter gear.
The short, cute boots and lined, but casual jacket were abandoned. Items forgotten since last winter were greeted with cries of glee. Dig out the Sorels from the back of the closet. Slacks for town? Take the ones large enough to permit pulling on some Stanfield's underneath. Thinsulate gloves? Left at home in favour of leather mitts lined with shearling. Socks? Only good old MacGregor's, thank you, the sort scientists probably wear wandering among the penguins at Antarctica. Where's the long, puffy jacket, the one with the hood that ties shut? No sleek, small scarf to toss nonchalantly over one shoulder. I need the wide, fluffy, brown one that's six feet long, including fringe. Long enough to wrap around whatever remains of my face visible inside that jacket hood. Now, bring on the forty-five below weather (wind chill included.)
I didn't always dress for survival. No, indeed. If you were going to town, I reasoned, you dressed up. That would be in a dress, stylish woolen coat, soft leather gloves and high-heeled boots with fur trim. That idea lasted until the winter afternoon I came back to the parkade to find that my car had frozen solid and that I wasn't the only one wanting help from BCAA. "Stay with the car" BCAA cautioned me. As I paced the now deserted parkade trying to keep warm by walking, feeling sympathy for Napoleon's troops on their retreat from Moscow, I decided, 'to heck with fashion, I need warmth'.
My motto now isn't "What looks good on me?" It's "What looks good on a woman holding a jug of Alaskan Ice Melter in one hand and a snow shovel in the other?"
I seem to be in the majority. Most Canadians can calculate the wind chill faster than a bookie in Las Vegas giving odds on a ball game. In a few snowy, bone-chilling days the population where I live was transformed from diverse, fairly stylish individuals to a monotone herd which seemed automatically to have adopted similar attire. Puffier than penguins and of much the same shape, only their eyes visible as they pulled their hoods and balaclavas down and their dickeys up, they plodded bravely through the white world.
Canadians have lasted so long in the Great White North because they adapt. In December 2008 there was snow from coast to coast to coast. Across the country Canadians dressed for snow and chill, plugged their vehicles in to keep them warm, left water running in their indoor taps and made ready to face winter head on, scarves wrapped around their faces.
Of course there were a few complainers. Vancouverites, who assure us it never snows in their city, were shocked when the snow kept on coming, temperatures dropped to a frightening minus ten, and transit ran fitfully if at all. Worst of all, some insisted, was unsightly Toque Hair, the ultimate social affront caused by trying to keep one's head warm.
As with all trouble, there was good news. Stanfield's are still manufactured in Canada. Could there be a better national winter symbol?

Other articles by Trudy Frisk