IT TAKES A VALLEY
Story by Trudy Frisk
Photos courtesy of Birgit Stutz
Belle and Sundance seem like ordinary horses. Nothing in the appearance of the three year old mare or fourteen year old gelding indicates that, in December of 2008, they featured in news reports around the world.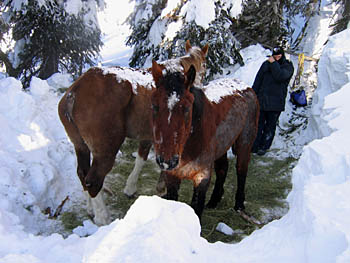 Photo credits Birgit Stutz
The two trapped horses
Photo taken Dec. 18

Their fame wasn't due to some equine accomplishment. It was a tribute to the endurance of the horses and the determination of the people of the Robson Valley who refused to leave them to die, trapped in six feet of snow, abandoned and starving, on Mt. Renshaw.

The Robson Valley in central B.C. has two large towns, McBride, near Mt. Renshaw, and Valemount; as well as smaller communities, Croydon, Dunster and Tete Jaune Cache. The traditional occupations of mixed farming, forestry, railroading and government positions are in steep decline. Recreational snowmobiling has been the one bright spot in past decades. McBride and Valemount are renowned for excellent snowmobile trails which regularly draw hundreds of 'sledders', mostly from Alberta. This turned out to be good luck for Belle and Sundance.

During the fall of 2008 hikers and hunters reported seeing two strange horses on Mt. Renshaw. They didn't belong to any local horse owners. There had been no reports of missing horses. With the onset of winter, people really began to worry. The week of Dec. 8th, Monika and Tim Brown, from McBride, rented a snowmobile to search the mountain. They didn't find any sign and reluctantly concluded, as did most of the Valley, that the horses were dead.

They were wrong. On Dec. l5th, Logan Jeck and Leif Gunster, experienced sledders from McBride, were helping two Albertans retrieve their machines from a tree well, when they glanced up to see two animals watching. At first Logan and Leif thought they were moose. Then they realized these were the mystery horses looking down on them from the alpine. It was late and the temperature was 25 below zero. They just didn't have time to investigate further.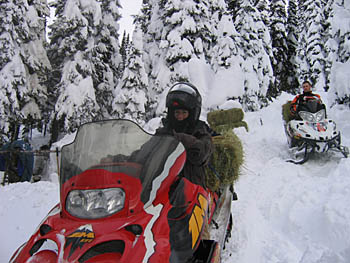 Hay and blankets were hauled in on snowmobiles
(Birgit Stutz, front, and Leif Gunster, back)
photo credit Stuart MacMaster

Next day, Tuesday Dec. 16th Logan and Leif together with fellow McBride sledder Matt Elliott and Logan's sister, Toni, went up to check on the horses. They put a bale of hay on the back of one of the skidoos. Toni's father, Dave Jeck, gave her a 44 magnum rifle and some advice. "If you think they can survive, give them the hay. If you don't, you've got the gun." As Toni's mother Lana Jeck puts it, "Toni was born and raised around horses. She's been a wrangler in Northern B.C. She's got a lot of redneck horse sense."

Toni assessed the animals carefully. "There's life in them. Sundance looks like a big strong horse." she decided. "They've still got spirit." And she broke open the hay bale.

Now to get them some shelter. Using their avalanche shovels the four managed to dig a path for the horses down into the tree line, and shoveled out an area for them to stand in. The snow froze so hard it was like a snow fence around the two emaciated creatures.

The next day, Dec. 17th, operations began in earnest. People took up more of everything. More hay, hauled on skidoos or on skimmers behind them. Real shovels. Equipment for melting snow over a campfire to water the horses. Horse blankets to warm the shivering pair. They'd lost half their body weight. They were covered with sores. Parts of their tails were missing. They just had their front shoes on. Dave Jeck took them off so snow wouldn't pack up underneath. Each day the volunteers increased the horse's hay ration. When they heard the roar of the sleds, they knew good things were coming and whinnied a welcome to the riders.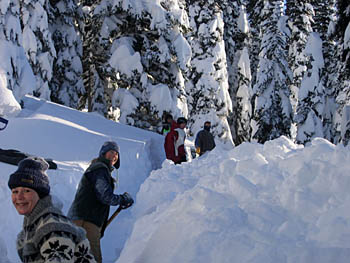 Monika Brown and Birgit Stutz shovelling
photo by Tim Brown, taken Dec. 18

None of this could have been done without the sledders. From the parking area it was an hour long, 30k ride up a logging road to the warming hut, then another 2-3 k. traverse along the top of the mountain, then down two steep hills to the horses. The temperature ranged from twenty to forty below in the darkest time of the year. A long cold ride to haul food, equipment and volunteers. But, once the decision was made to save the horses, no one considered giving up.

As word of the horses' plight spread volunteers just kept coming. Some, like Birgit Stutz, horse trainer and newspaper reporter, from Dunster, had never been on a skidoo in their lives, but wanted to help the animals. Some sledders, who weren't even from the area, offered to transport material. Many of the locals , like the Jecks, were both horse people and sledders. They formed a dedicated, ever-growing group.

Some people took time off work to help. Others had come home for Christmas to find that this year their Christmas included two stranded horses. People and businesses donated shovels, snowmobiles or funds towards fuel, gave food, put up posters, handled telephone calls or, like Lana Jeck, kept things going at home. While her husband and children were up on Mt. Renshaw Lana was, quite literally, keeping the home fires burning. She made sure the wood stove was stoked, looked after their own eight horses, one of which had been recently operated on, and got a Christmas tree so the family could celebrate Christmas once the rescue was done.

The question now was how to get the horses out. Rescuers considered several options. Could the snowmobiles pack a trail? Doubtful. Snow was six to seven feet deep. Even making it up the steep hills was difficult for the sleds. They thought of pulling the horses out on an oversized sleigh behind the skidoos but realized it wouldn't work. Horse snowshoes? Not likely. Slinging them out under a helicopter seemed to have potential but they weren't certain the weakened horses could stand the strain even if they were sedated.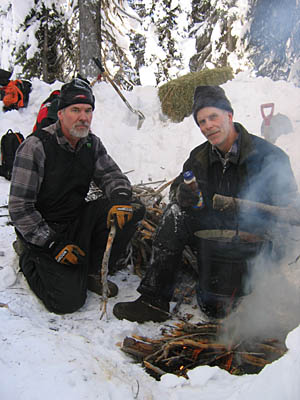 Stuart MacMaster and Dave Jeck
tending the fire taken Dec. 23, day of the rescue
photo credits Birgit Stutz

There seemed to be only one solution; they were going to have to dig a trail down to the logging road so the horses could walk out of the deep snow on their own. This wasn't easy. First came finding a reliable route through the steep cliffs around treacherous gullies and deep drop-offs. Dave Jeck and several others explored the area on snowshoes. Once they had a satisfactory route, he, Birgit, Matt, and Monika snowshoed it out from the horse area down to the logging road and groomed snowmobile trail.

It was time to start digging. Shoveling a kilometer long trench through six feet of snow in alpine terrain takes technique. You don't just stand on top of the snow and dig down. They did it in pairs. The first two would take a couple of feet of snow off the top and move ahead. The next two took off a couple more feet and moved ahead. The last pair cleared it right down to the ground. That's when chainsaws and axes came into play to clear deadfall and roots. There was a lot of deadfall. To speed progress, they shoveled from both top and bottom. At the logging road, where the trench started uphill they discovered a creek running briskly, insulated by the snow. They cleared all the snow off the creek, and water froze into an ice bridge.

Damp, chilled and tired, they shoveled for eight days, four or five hours a day. Every day the core group would meet at 10:00 a.m., get the sleds ready, load up with hay and set off. People got frostbite. It was so cold that a few shovels broke. In some ways, though, the cold was a good thing. Snow or warmer weather would have made the rescue more difficult. In the cold, once the trench was cleared out, it froze rock solid.

The day wasn't over when they got home, either. There was lots of phoning and e-mailing. After hours of shoveling Birgit would find thirty e-mails and five or ten phone calls waiting for her to answer them.

The horses were the topic of conversation throughout the Robson valley. At post offices, hardware stores, laundromats, "How are the horses?" was the first question, even before comments on the weather. Word began to spread. C.B.C. North, from Prince George carried morning and afternoon bulletins on them. The Jasper newspaper had a story, then Edmonton and Vancouver papers and T.V. stations got interested. The horses and their rescuers seemed to really touch people.

They certainly impressed the S.P.C.A. On Dec. 19th two S.P.C.A. constables from Kamloops and a vet from Prince George made that cold snowmobile ride up Mt. Renshaw to assess the animals. The vet gave the horses a body score of two on the Body Condition Score system. One is the lowest, nine the highest, five is a good average. She complimented Toni Jeck for her call when she decided the horses had enough spirit to make it, if they were cared for. All agreed that walking the horses out was best, that any other method would be too traumatic. The fact that it was taking so long to dig the trench was actually in their favour. They had time to eat, rest, stay warm and build their strength. The hard work involved made a lasting impression. Kent Kokoska, senior animal protection officer said, ". .we were very pleased that such a huge undertaking had been accomplished in such a short time due to the compassionate efforts of the locals. It struck a deep chord with us. It is something we won't forget any time soon."

The publicity got a response from Frank MacKay, owner of Belle and Sundance. MacKay, an Edmonton lawyer, explained that, in September, he had been on a pack trip with supplies for a woman hiking along the Continental Divide. He got lost, became bogged down, extricated the horses with difficulty from muskeg, and finally took their packs off and rode out, hoping they would follow him down. They didn't. He reported them to the McBride RCMP. Twice he went back to find them, once in October and, again in December. When he located them, on Dec. 5th, they were in ten feet of snow. He poured some Gatorade down their throats and left them with thirty pounds of oats and some alfalfa pellets. He said he did the best he could. When asked why he didn't ask the locals for help he replied "I doubt people would have helped a stranger." The locals responded with roars of outrage.

After the Robson Valley people rescued Belle and Sundance, Mr. Mackay stated they were his property and he wanted them back. The SPCA did not agree. Mr. MacKay will not get his horses back; instead he will be charged with abandonment and cruelty under r the Criminal Code of Canada. He has not filed an injunction. The horses now legally belong to the SPCA. If the horses, now at a rehabilitation facility near Prince George, go to new homes, the people of the Robson Valley will be the first ones considered.

People just kept digging. On Saturday, Dec. 20th,, it was forty below, so cold that many of t hem couldn't even get their vehicles started. Those who could came with their shovels and some hay. When Birgit arrived, two people from McBride were already there digging. From then on, lots more came each day. On Tues. Dec. 23rd, twenty four people came to shovel.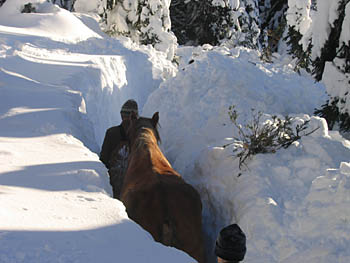 Photo credits Marc Lavigne
pix taken the day of the rescue, Tuesday, Dec. 23
Heading down the 1-km long trench that volunteers
dug in six feet of snow the week before Christmas

That's the day the trench was finished and volunteers got Belle and Sundance ready for the walk out from their icy prison. They put on halters and took off their blankets. At first the gelding seemed a bit stiff, Birgit noticed, but the mare was full of mischief. "She was really motoring down the trench, like 'Let's get out of here!'" As Birgit led her she pinned her ears back and tried to eat Birgit's backpack. "One of my happiest moments was when I came out of the trench with the mare. The gelding got hung up on a root once, otherwise it all went well." At 2:45 p.m. the horses and their rescuers emerged onto the logging road to cheers from those waiting.

Of course, getting the horses to the groomed trail was only the first part of the rescue. They still had to walk them down that 27k road to the parking lot. They had no idea how far they'd get, in weather which was 25-32 below and getting colder as darkness descended. The horses got some food, volunteers gnawed on chocolate covered goodies and half frozen sandwiches, had some coffee, blankets were put back on the equines, people stuffed their hands into their three pair of mittens and the long walk began. The horses were in good spirits. "They must have known they were going to a better place, warmer and more food." , is Lana Jeck's opinion. Dave was walking Sundance. If the gelding wanted to go to t he bathroom, he'd nudge Dave on the shoulder. "Who says animals can't communicate?"

Most of the sledders went down to the staging area, but some escorted the horses ahead and behind so that others coming out of the alpine could see the rescue group and be warned there were horses and people coming down the road. People had put up big signs in the parking lot below "Horse rescue in progress!" Birgit decided walking was going to be warmer than riding on a sled. She walked the entire way, but other took turns leading the horses and riding the sleds. As they went, they took time to rest and feed the horses. After seven hours, at 10:00 p.m., the group reached the staging area where a local farmer with a horse trailer picked up the horses and took them to an SPCA foster farm.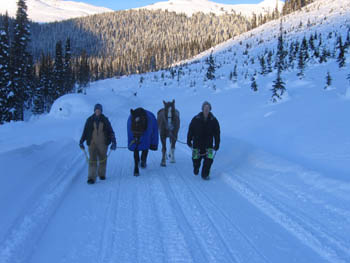 Photo credits Marc Lavigne
pix taken the day of the rescue, Tuesday, Dec. 23
Heading down the 28 km long logging road after
the two horses were led through the 1-km long trench

Birgit went home, tired but happy, ready to take the next day off. Then all the media began calling. The Canadian and American press called her on the 24th. The Globe and Mail on the 25th. McBride and the rescued horses were front page on Canada's national newspaper. The story went around the world. Tulsa, Tucson, Philadelphia, Toronto, Vancouver, Edmonton, Austria, Australia, New Zealand, Switzerland, are just a few on the list. On Dec. 29th it was a lead story in the China Daily.

Up on the mountain digging the rescuers hadn't realized how much coverage they'd received nor how deeply their efforts touched people. The Village of McBride received e-mails from people all over the world commending the volunteers. A letter to the editor in the Globe and Mail suggested they be named Canadian citizens of the year.

What a surprise. After all, they hadn't formed a committee, drafted a mission statement, applied for a government grant, and ensured that the shoveling groups were gender balanced. They just voluntarily went out in the cold and dark, spending time and money to rescue two strange horses; horses which didn't belong to them or to anybody they knew. Those who couldn't actively dig, supported the rescue in many other ways; the entire Valley was involved. Why did they do it?

Lana Jeck is clear: "Nobody did it to be a hero. If there's animals that need help, you do what you have to do. Dave would dig a hole to China to help an animal."

Birgit sums it up: "That's what people do around here. People just help you out. It's not only people who know you; it's total strangers."

From the response to their story, people around the world wish they lived in a Valley like that.





Other articles by Trudy Frisk