THE OLD LOG HOUSE: 1947 TO PRESENT-THE KERSHAW YEARS
Story and current photos by Trudy Frisk
Historic photos courtesy of Gary and Lynda Kershaw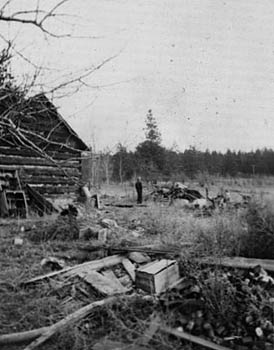 the house in 1947

When I went to interview Gary and Lynda Kershaw I gazed around their home in fascination. "So, this is the old Pratt house!" Lynda looked hurt. "We think of it as the Kershaw place." , she replied.

That's fair. If three generations of a family have owned and occupied a place for sixty-two years, more than half the lifetime of the building, they have a right to call it by their name. Certainly 'the old Pratt house' wouldn't exist today in its current excellent state
if not for the Kershaws.

It's one of the oldest, most important, original houses in the Kamloops area.
"Of course, 'old' is relative." Lynda mentioned "A friend of mine in Scotland lives in a 'new' house. It's only two hundred and fifty years old."

The (approximately) one hundred and nineteen year old house, made of hand-hewn pine logs, sited among orchards, gardens and fields, has been home to the Pratt family, prize-winning orchardists; the Lairds, good farmers and community-minded folk; and eccentric Cappy Willes, a man who loved the military life but paid little attention to either farming or house-keeping.

When he sold to the Kershaws in 1947, the place needed some refurbishing. The Kershaws knew the house well. Homesteaders since 1919 themselves, they passed it every time they went into town from their home on the Campbell Range. Gary Kershaw's uncle Bill Kershaw had met original owner Robert Pratt. Gary's father, Robert Kershaw, knew Cappy Willes well from the 31st Regiment, British Columbia Horse. So there was continuity when the new owners took over in 1947.
Cleaning and renovating

The entire family, grandparents, parents and four children moved onto the farm and began to set things to rights. First priority: clean out the place. "It was a big job" recalls Gary. "Cappy had let things get away from him." He seemed never to have shoveled out the barns. The Kershaws took down the porch, which was leaking and generally spruced up the house and barn.

They built another house on the property. Gary's parents, Robert and Alison Kershaw, and their four children moved into it, leaving the big log house for grandparents, Will and Annie Kershaw.

Like many of the early settlers, Will and Annie were from England. They immigrated to Canada in 1905. William had served in the Boer War prior to coming to Canada. In 1917 he joined the Canadian forces. During WW1, his grandson Gary writes, " .. he survived a poison gas attack as well as the battle at Vimy Ridge." Will Kershaw's sons, Robert and William, used VLA grants to buy the former Pratt farm.

Things were still fairly rustic in rural areas in 1947. There was an old well, not a very good one. "The water was just barely adequate." Gary remembers. Heaters and the kitchen stove burned wood. There was a root cellar, which still exists. And, of course, there was an outhouse. Grandfather Will Kershaw, combining esthetics with practicality, planted hops around it to conceal it. Made pretty good beer from the hops, too.

The family had made do with coal oil lamps. Eventually they up-graded to gas lamps. Grandmother Annie had no luck pumping up those lamps. As Gary recalls, "On several occasions the house would have burned down except for the plaster."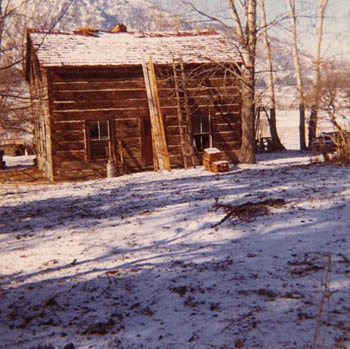 1971-the house gets a new roof

All concerned were happy when power came through in 1950. The old log house got external wiring and electric light. It was the same house, but it kept up with the times. "It's not a museum; it's a home." Lynda emphasizes.

When they moved in there was still a farm with hay fields, pastures etc. The Robert Kershaws made a living farming. For about a year they also kept the Post Office. Mrs. Kershaw decided the income didn't compensate for the inconvenience so they gave it up.

In 1956 William Kershaw died. The old log house was empty for a while. It could have been rented but the family didn't want strangers living so close.

In 1971 Robert Kershaw decided it was either fix it up or tear it down. The house was very important to him. He chose to fix it. This didn't involve major structural change. In fact, as Gary says, "The house has benefited from benign neglect. It's well preserved because people didn't have the money to redo it. We just maintained what was there. If we'd been wealthy, the house would have been torn down and a new one built, but my father didn't spend money easily."

A new roof was put on with shakes from up the North River. Electric baseboard heat was installed. All the inside plaster was taken down. That led to some surprises.

The house has always had its secrets. It revealed a lot of them to the surprised Kershaw family as they stripped away the old-fashioned plaster to find personal letters, receipts, and bills, dating from 1903 to 1909, relating to the Pratt family. The documents, found below and around the windows, must have been put on window ledges or stuffed into cracks and fell through between the plaster and the log walls.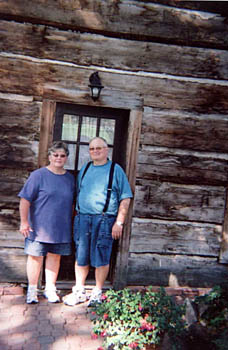 Lynda and Gary Kershaw -2008

They give a fascinating picture of everyday life. Then, as now, water was of major concern in the Kamloops region. One letter asks if surveyors for the irrigation ditch have been there yet. Another, from Helena Pratt's sister, Maggie Stevens, asks if she can borrow ten dollars. Her husband, Paul Stevens, suspected as a horse rustler and accomplice of the Billy Miner gang, never had a lot of ready money. Maggie's relatives helped her out. The letters are in very colloquial language, with idiosyncratic spelling. "I'm lonesome for to see some of my old friends." Mary D. Spooner wrote to Mrs. Pratt. Her yearning for people and places left behind comes clearly across the years.


Robert Kershaw recognized the importance of the documents. "They were Dad's delight. He treasured them. He always liked history. ", says Gary, who now has the letters.

Gary and Lynda Kershaw moved into the log house in 1977. "It's a friendly house, maybe because people have been settled here so long. The first time I stepped across the threshold, I thought, 'I'll be living in this house one day'" Lynda recalls. "There's a sense of continuity; that there were others before me and there will be others after me. "

"Every generation has added something." Descendants of the original lilacs mark the boundaries. Some of the apple trees Robert Pratt planted in 1905 still bear fruit. In 1911 apples from those trees won the gold medal at an international agricultural exhibition in England.

Sadly, not all trees last. Ponderosa pines, relatives to the ones from which the house is built, suffered from the pine beetle and had to be felled in 2007. Maples planted by Will Kershaw in 1947 have grown, flourished and are now in decline. Branches are dying and breaking off. Last year one tree fell over, luckily into another maple, not onto the house. Now that maple is leaning. In a transient world, few of us are fortunate enough to even know trees planted by our grandparents.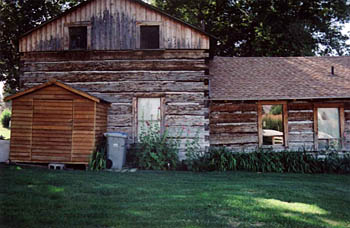 back of the old house, 2008

The house has seen it all. How does one live in an historic building? Again, Lynda sums it up: "It's not a museum; it's a home. " As Gary says, "It has to be renewed and maintained; otherwise it wouldn't survive." They plan to upgrade, but only in keeping with the age and spirit of the house. "The windows, which are the original ones, are thin and drafty. They need to be replaced, but it'll have to be with the right windows." The original kitchen door might be replaced. "There's time to slowly work at it. We'll carry on the way we've been going." They always planned to keep it in the family and look after it.

Although some of the land belonging to the original Land Grant has been sold, the core property remains with the family. Gary and Lynda's intention is to keep the house that way. "We want to pass it on. It'll go on as long as possible."

The house does have its secrets, who built it and when, being among them. "There can't be that many secrets left." , is Gary's opinion. Yet, last year while digging the foundation for a small patio, they uncovered an intact bottle of Dr. Fowler's Wild Strawberry Extract. Who, of all the people who've lived in the house, might have left it there?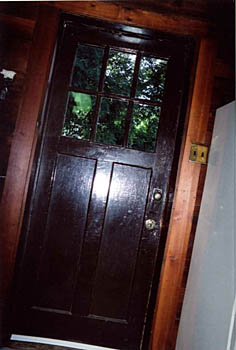 original kitchen door

They came from very different backgrounds; having in common, courage, determination and a spirit of adventure. In 'Barnhartvale History' Gary Kershaw explained to his students the challenges facing pioneers.

"Think of the early settlers and what they accomplished using only their backs and the power of horses – with no tractors or other heavy equipment. Try to imagine the sweat, labour, hardships, and triumphs of all those pioneers who turned the pine forests into fields, barns, fences, and houses. They carved roadways up steep hills to reach their homesteads. They saw the value of education, and they built schools for their children. They engineered and dug many miles of irrigation ditches to turn this semi-desert into a productive farming region. Keep in mind that these are not just characters in some story. They were real people who saw many parts of the landscape here just as we do: the clay banks, the creeks, the hills."

Part of their legacy lives on in the old log house.





Other articles by Trudy Frisk