RIDING AND WRITING; GARRY GOTTFRIEDSON
Story by Trudy Frisk
Photos, Secwepemc equine terms and book cover courtesy of Garry Gottfriedson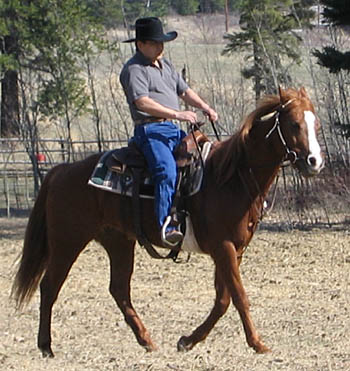 In the field.

Garry Gottfriedson says his ideal life consists of riding and writing. He seems to have found the perfect balance. Between his popular author's readings in Calgary during June 2010 and his July book tour of Vancouver Island and the West Coast, Garry found time to take possession of a new quarter horse stallion and introduce the horse to resident mares at Garry's Paul Lake property, where he raises and trains cutting horses.

Garry was born, the third youngest of thirteen children, into a renowned British Columbia rodeo and ranching family. Gus Gottfriedson, his father, was a respected rider and rancher, famous for supplying top quality stock to rodeos throughout the west. Some of the greatest bucking horses in Canada came from Gus Gottfriedson's stock.

Both his parents were, Garry says, really amazing, skilled horsemen, who continued riding till very late in their lives. His mother, Mildred, was the daughter of Andy Manuel, also a stock contractor with a huge herd of horses. His great grandfather and grandfathers were stock contractors.

"A lot of professional cowboys started out at my house." Garry remembers. "Mel and Wilf Highland, Shaun Davis, Clayton Hines, the Daines brothers, and Jimmy Cliffords, the great bareback rider, all gathered at our place to talk horses and practice riding."

"Dad had cattle, too. I grew up in that rodeo, ranching world." The ranchers kids all hung out together, whether it was at the Puhallo home or at Gottfriedson's on the Kamloops Indian Reserve. ""It was good growing up there." Horse people stay connected. " Once it's in their blood, how do you get rid of it ? Every horseman I knew in this valley is still connected. "

Garry was a bull rider, saddle bronc rider and a jockey. "I was riding bulls when I was eleven or twelve years old, riding against men." And he was good at it. "You have to be extremely fit to be a rough stock rider!" He rode as a jockey on the B circuit in Alberta. He did well with cutting horses, too. "That's how I paid my way through university. It was those horses and cows that paid for my university. And people say they're dumb animals!"

"There are generations of horse people in my family. It's like the colour of my skin; I can't get rid of it." For about fifteen years, though, while he was getting his education; his under-graduate degree in Calgary, his Master's of Education at Simon Fraser University, complemented by a creative writing course at the Naropa Institute in Boulder, Colorado; and establishing himself as an educator, Garry backed away from horses.

In 1989 he returned to Kamloops, moved up to Paul Lake, on the Kamloops Indian Reserve, where he and his son Vince cleared land, and he got back into horses again, raising and training quarter horses.

"It wasn't automatic. I had to re-open connections, to re-establish myself, prove I knew blood-lines and knew how to ride. But I expected that. "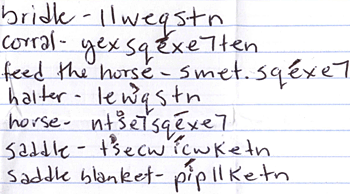 He's also established the connections between the Secwepemc people's traditional culture and the horse world. "In Secwepemc there's a whole vocabulary around horses. Different colours of horses, types of bridles, and saddles. We have songs and creation stories about horses. There is a story that the spiritual connection between horses and persons came through a little kid. There's even a horse dance in which women make up a corral and men are the horses. Men dance and prance around outside the corral while the women call and entice them to come in. "
Garry teaches at the Chief Atahm School, a full immersion school operated by the Adams Lake Indian Band, offering aboriginal language, songs, dances, and outdoor culture, including working with horses.
It's particularly appropriate that he's teaching the traditional ways, since his mother, Mildred, was one of those who did a lot of work to bring back the culture. " The Secwepemc language, songs, dances and customs are all part of the Canadian culture. My mother worked hard to keep it alive, to bring it to the attention of the Secwepemc people and the public. She gave her children a strong sense of history. When she took us digging for cedar roots to make baskets, she used that as a time for teaching. She taught us to follow the root to its end. ''That root is who we are. We've made baskets like this for thousands of years. ' she told us. "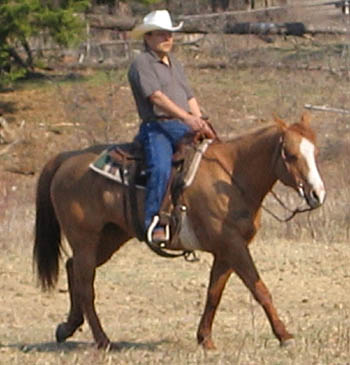 Training.

Mildred Gottfriedson was a remarkable woman. As well as raising her own thirteen children, she took in thirty-nine foster kids, teaching them traditional ways. In 1964 she was named Canadian Mother of the Year. She joined other aboriginal women who successfully challenged the Indian Act regarding discrimination against status aboriginal women who lost their status and that of subsequent children if they married non-status men. The Order of Canada was one of the many honours awarded Mildred Gottfriedson.

She had high expectations and standards for all her children. Garry was given no choice. "You're going to university; you're going to be a teacher. "

Garry recalls that his mother was a strong influence on his creativity and desire to understand the depth of culture. "But there are different ways of knowing and teaching. My Dad was a good orator. His imagination and ability to recall details were phenomenal. I get my interest in story telling from him. Out hunting on horseback he taught me about patterns of animals. He had excellent eyesight. He could look at a herd of horses on the mountain side and comment, " There's good grazing up there. '' "

Both parents were fine hunters, "My mother was known as one of the best marksmen in this area. She never bragged or showed off. " Both were advocates for their people. "My father once challenged Pierre Trudeau regarding the laws on Indian land. Our family had to be able to adapt to different circumstances in Canadian society."

When Garry was growing up, "Every kid on the reserve had a horse. Our families were poor. We had no bikes or cars. Horses were there. "

Today, at Chief Atahm School Garry sees a marked difference between the students who grow up ranching and around horses and those who don't. " As an educator, I can tell kids from horse families right away. Kids who have horses seem to be so grounded and caring. Kids who grow up with video games are self-centered with no respect for anyone, even their parents. City kids are cheeky and disrespectful. It's a huge attitude difference. Animals are amazing teachers. They can teach you about yourself. What can a bike teach you? I'm continuously amazed at what I learn from horses. "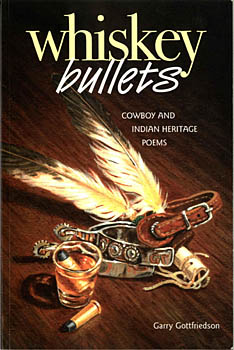 "Despite distractions, the horse culture is still there, but it struggles to stay alive. Circumstances have changed. Horses today are like something in a zoo, like dinosaurs. Transportation, lack of land and expense are very real problems. "
Garry's writing does much to document and promote that culture. His book, "Whiskey Bullets; cowboy and Indian heritage poems" ,interweaves his experiences growing up inhabiting both aboriginal and cowboy cultures, pointing how they overlap and strengthen each other.
Garry's first book ,"In Honour of Our Grandmothers", was published in 1994. He began writing so late in life because, he says, "I was exposed to rodeo and ranching; I was never exposed to art. " Traditionally, story tellers were a vital aspect of Secwepemc society; of equal importance with hunters, warriors or leaders. "Story tellers presented a world view and philosophy, handed down tribal history. Through stories people understood how to conduct themselves, knew what their place was, learned to act with respect. "
In our modern world Garry says, "Data banks are the story tellers. They're so impersonal. They don't know how to value experience or teach respect. "
Garry is anything but impersonal. He describes himself as a ''binge writer''. He doesn't force himself to write every day at a certain time. "If I'm going to write, it would be for someone to read. Why would I write, if I have nothing to say?" And when he writes?
"Everybody stay away. Close the door and leave me alone!" He wrote ''Whiskey Bullets'' in two weeks.
His work has received wide recognition. He has toured in Italy, Germany, France,
Taiwan, Austria, the U.S. and Canada. His poems and stories are published in Ireland, and England as well as North America and have been translated for anthologies in Mexico and Chile. His latest book "Skin Like Mine" has just been published.
In ""Whiskey Bullets"" Garry writes, "I grew up in an exciting rodeo and ranching family, and I am a part of and love both the cowboy and Indian cultures. …………………….. I have the best of all worlds. "

Other articles by Trudy Frisk