SAVING THE BOYS - (GIRLS, TOO)
Story by Trudy Frisk
Photos of Catie Ward with Sundance and Catie's three horses by Trudy Frisk
All other photos courtesy of Catie Ward
Catie Ward jokes that she spends her leisure hours surrounded by gorgeous males. She doesn't always explain that one of them has four paws and barks, while the other three have hoofs, manes and tails, and neigh. Catie adopts animals rescued by the SPCA.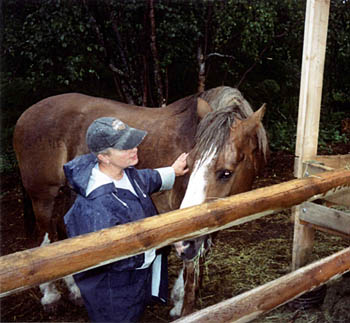 Catie Ward and Sundance.

She's had an ingrown love of animals since she was a kid in southern Ontario. Her parents, both music teachers, didn't understand, so Catie had no pets. She did spend summers on a cattle ranch near Cambridge. "We jumped on horses, no saddles, chased cows and brought them in." Catie recalls. "I always wanted a house full of animals: horses, dogs, cats, chickens." When she married and had her own family, they always had animals.


When her children left home, Catie began to take in rescue animals, cats and dogs. In 2000 she was living on her ranch near Kamloops, B.C., when she went on the SPCA web site and realized that she could also have horses. Her first horse was a former PMU mare. Catie hasn't looked back.

She's had two other mares, Pepper and Mocha, plus dogs, and cats. Catie accepts the senior animals; the ones with severe problems. In fact, word round the SPCA is , " If you have a horse in really bad shape, call Catie." She makes their last months or years as happy as possible. On a knoll behind her house are white markers for her deceased dog, cat, and the two mares. Catie swears that Mocha, one of the mares, "was two hundred years old when I got her." Mocha's teeth were so poor, Catie had to feed her mush.

Each of the three horses in Catie's present three horse herd has his story. A listener's sadness at how some people neglect animals is offset by the devotion others show in caring for them.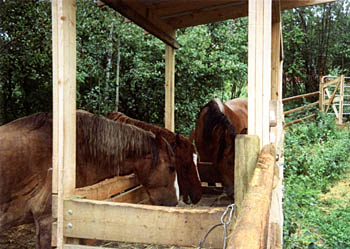 The Boys At Breakfast.

Sundance, a sixteen year old Belgian, quarter-horse mix, is the most famous. On December 15th, 2008, two snowmobilers found him, with his half sister Belle, abandoned and starving, trapped in six feet of snow, high on Mt. Renshaw, near McBride, B.C. For eight days determined rescuers from communities throughout the Robson Valley brought up food on skidoos and melted snow to keep the horses alive. Volunteers dug a trench six feet deep and a kilometer long so the horses could be walked out to the nearest plowed road. Word of the rescue spread around the globe.

Sundance was in very poor condition when rescued. He was in foster care for eight to ten weeks before coming to live permanently with Catie. He's since put on seven hundred pounds, "He's as big as he ought to be." Catie says. " But he's still very protective of his food."

He is the Number One horse in his small herd. "King of the World" as Catie calls him. "When he walks into the pasture, everyone gets out of the way. He's earned their respect. Sometimes he'll snap but he never kicks or bites. Animals are extremely receptive to his presence. He's also very aware of his presence, the space he takes. He's never bumped into me, even accidentally." When Catie goes riding with her friends, who all ride female horses, "All the girls are in love with Sundance!" He takes their mane tossing and eyelash fluttering serenely.

Catie doesn't have favourites among her horses. ""The Boys and I are a team!" They certainly are.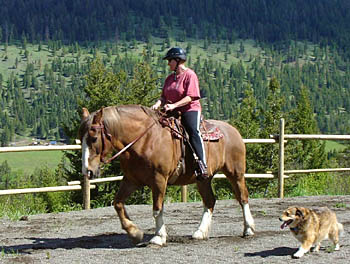 Catie Riding Sundance.

Red, a thoroughbred race horse, was a champion on the track at Hastings Park in Vancouver. When Red stopped winning he was sent to a 'retirement farm'. He was seized from the farm by the SPCA. Catie's had him for two and a half years. When sixteen year old Red broke a coffin bone in his foot, she was determined to save him. "In 99.9% of cases the horse would be euthanized. With proper care and management of pain, we got him through it." Darcy, her farrier, said, "No way are we putting him down!" Red had an orthopedic shoe put on his injured hoof. That shoe had to be changed every six weeks, because the hoof continues to grow and not changing the shoe would compress the hoof.

Catie has high praise for farriers and veterinarians. "They are magnificent. I can always phone them, they don't mind questions. They reduce their fees to try to help. They pull so hard for these animals, big or small." Rehabbing an animal costs thousands of dollars. During rehab the SPCA pays the vet bills. When an animal is fostered, technically the SPCA also pays, but many people who foster animals pay what they can. Once an animal is adopted, the owner pays.

Reg, Catie's third horse, is a thirteen year old registered Clydesdale from Vancouver Island. Reg's brother, Ronnie, was treated by the SPCA for cancer. He got through chemo successfully, but relapsed, and died. When Ronnie died, Reggie lay down beside him and stayed there for hours.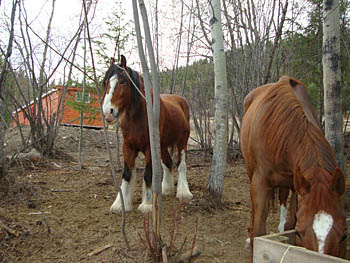 Reggie

"Poor Reggie, he'd never been without his brother. The SPCA decided to get him into a permanent home as soon as possible. " That home was with Catie. It was eight-thirty on a Saturday night at the beginning of January, when Catie walked down to the highway to meet Reggie. ""The side roads were sheets of ice. I knew Kevin, the driver, wouldn't make it up the road to the ranch."

Reggie and Catie had never met each other. He was terrified, in an unfamiliar place, alone with a stranger. For two hours Catie patiently walked Reggie up the slippery road towards home.
"He'd go for ten feet. Then he'd stop, start panicking, and start screaming. I'd walk him in a circle to quiet him down. Sometimes he'd go down on his knees. Most horses would come up kicking, but he never tried to hurt me. I think he sees me as his leader since I did circles with him all night, leading him home."

Catie plans to get a professional trainer to work with Reggie. Meanwhile, he's coming along very well. When Poppy, a neighbouring mare, was in season, Reggie jumped the fence to visit her.

Catie has noticed the three horses have very different personalities. " There's still constant movement around the feeders. It's how they establish dominance. Reggie is the low man on the totem pole. He always gets shuffled away. There are four feeders for three horses so no one ever goes hungry."

Dominance is important to horses, Catie explains. "Sundance is the Number One Boy. Red and Reggie are buddies. Sunny is their big brother. He guards his brothers. He does his job incredibly well. He's an exceptional leader. He has the respect of his brother and sisters. He's calm and collected until he feels threatened. Then he's out in front protecting his herd. "


One dark winter night when Catie and Cooper, her dog, were walking home, Sundance didn't recognize them, assumed they were a danger, started to snuffle, then began screaming a warning. " I talked to him and sang so he'd know it was me. He was ready to defend the other horses, which were standing right behind him. "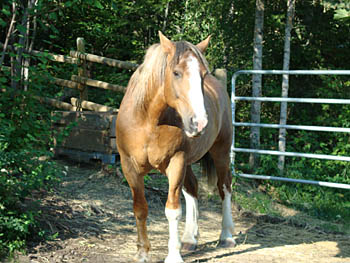 Sunny

Cooper, Catie's dog, is an integral part of the group. Cooper actually goes to work with Catie each day. When they're home, he's keeping watch and helping out. The horses know Cooper belongs.

Catie can't say enough about the SPCA. "They're a phenomenal group of people who generally have the animals' best interests at heart. The animal cruelty investigators – I don't know how they have the courage to do the work they do. They'll even pay for their own expenses so money donated goes to animals."

The SPCA returns Catie's high regard. Not only has she fostered and adopted animals, she had a raffle to raise money to buy a six hundred dollar digital camera so livestock investigators can take pictures in dim or difficult light. Kent Kokoska, SPCA special provincial constable had been waiting almost four years for such a camera. Catie's planning another fund-raiser at Christmas.

Her love and concern for her 'Boys' and all the animals she's taken in influence others. Both Catie's daughters also foster rescue animals. Catie makes a huge difference, not only to animals, but to people in her community. As she sums it up, " The world has to get the message about caring for animals."





Other articles by Trudy Frisk