A PROMISE KEPT; THE WARNER PHILIP CONSERVATION AREA
Story by Trudy Frisk
Photos: Connie & Warner Philip: Carolyn Genshorek
Philip Family at memorial plaque: Harold Wiest
Connie Philip & Barb Pryce at memorial plaque: Rick Killam,
Connie Philip reflected in memorial plaque, Peter Philip and Philip ranch gate:
Tony Brummell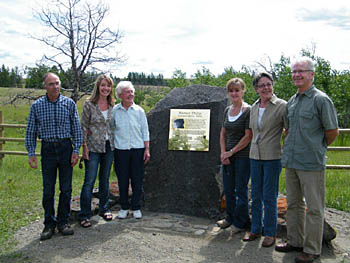 The Warner Philips family by the Nature Conservancy plaque
honouring him. Son Peter, daughter Carolyn, wife Connie,
daughters Marian and June and nephew Hugh Philip.

Humans instinctively want to protect what they love. Connie Philip made a promise to herself,because of her love for Warner, to set aside part of the ranch to honour his memory. In June 2011 that promise was fulfilled with the establishment of the Warner Philip Conservation Area.
This Conservation Area marks the latest agreement between ranchers and The Nature Conservancy of Canada. Increasingly ranchers and conservationists, once considered unlikely allies, are working together to protect the land

The Philip ranch, at Long Lake, near Knutsford, B.C., was settled in 1909, making it one of the oldest family ranches in the province. The 640 acres (260 ha) of the Warner Philip Conservation Area includes the original quarter section they homesteaded. Here Warner Philip grew up, here he and Connie raised their family, promoted the beef industry and coped with its challenges. Warner Philip died in 2005, but Connie remembered her promise.

Warner knew the land and loved it for its natural plant and animal life as well as its agricultural values. It's that double heritage that Connie Philip was determined to preserve in his memory.

Connie and her son Peter still run the ranch. They wanted a way to protect the land, while continuing to use it for cattle.

Connie and Peter decided the Nature Conservancy might offer a solution for their land. "We didn't want it to prove an obstacle to Peter's ranching." Connie says. "If we set it aside as a park, then it would be open to the public."

They decided on a conservation covenant.

The covenant means that title hasn't changed. Philips retain title. The Conservation Area is an active part of the working ranch. However, should it ever be sold, it must be sold as a block and the conservation covenant will still apply. The land cannot be subdivided and must be managed for natural as well as agricultural features.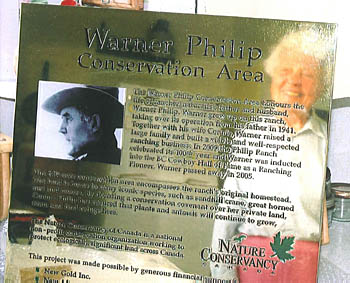 Reflections

The natural values here are very important indeed. They include wetlands, middle and upper grasslands, Douglas fir copses, and ponderosa pine woodlands. The area forms part of the key locality in British Columbia for migratory birds.

Barb Pryce, speaking for the Nature Conservancy, describes it as very important for conservation. "The Philip Ranch supports prime grassland habitat for some of B.C.'s species most at risk, the endangered American Avocet, threatened Trumpeter Swan and Sandhill Crane. " Connie, who for many years monitored a bluebird nest box route on the ranch, adds to the list, " Bluebirds, hummingbirds, Canada geese, mallards, herons, burrowing and great horned owls, downy, hairy and pileated woodpeckers."

Sandhill cranes depend on Philips grasslands and ponds for rest and refreshment during their spring and fall migrations.

The native grasslands form only one percent of B.C.'s natural environment, but they provide habitat for a great diversity of plants and animals. "Warner, " Connie recalls, "was very observant of the land. He could spot new flowers showing by the side of the road, even when driving by! He was always the first to report the first ones coming through in the spring. Lady's slipper, shooting star, violets, lupine, chocolate lilies grow on the ranch. So do wild raspberries, chokecherries and Saskatoons." Those wild berries made tasty desserts for early settlers.

Moose, black bear, deer, coyote and porcupine roam the ranch. A variety of butterflies and moths flutter across it.

The fact that the covenant exists in perpetuity is an advantage for both the Philips and the Nature Conservancy. Peter sums it up, "You don't make a deal with one group of people and they leave then you find you're dealing with another group. " All the ranch land is included in the ALR. Warner was an advisor for the ALR.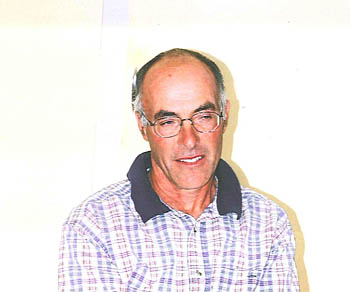 Peter Philip

Peter points out wryly, "Ranchers and conservationists weren't always on the same side, partly because of economics. Improvements on a ranch which conservationists called for often depended on a rancher's economic circumstances. Frequently we just didn't have the extra money to do them."

"When the NDP formed LRMP.s , (Land and Resources Management Plans), and groups got to sit down together to talk that we realized we were all on the same side. "

"Working with conservation groups such as the Nature Conservancy of Canada is mutually beneficial. Conservation people realize that, if the land is not being ranched, it will be broken up. Conservation is an advantage to the rancher, it increases the value of the land by about half."

"Development is forcing ranching north. It's much more expensive to ranch up north. Better to protect interior grassland for both ranching and nature. Ultimately land should be valued for its productive capability; valued for its forestry and agriculture. Things are skewed the other way. It's more valued as a place to put a house on. It's a double whammy; agricultural land gets a tax break; if you build a house on it, the government gets more tax. I don't know how you adjust that. The Conservation Area is one tool to protect the land. "

The Nature Conservancy of Canada has always seen ranchers as potential partners, says Barb Pryce. "The ranchers we've worked with have an amazing land ethic. Many have been on their land for generations. "

"We do have many things in common. Both care about retaining the integrity of the natural landscape, plants and animals. We're both looking for ways to work together for the benefit of working ranches as well as bio-diversity. We're both concerned about threats to the lands by development. We work together to preserve special places. "

"Spread of invasive weeds affects the health and robustness of the grasslands; ranchers rely on those grasslands for their cattle. Inappropriate use by motor vehicles affects the land. Together we are working to preserve grasslands and other ecosystems from these impacts. "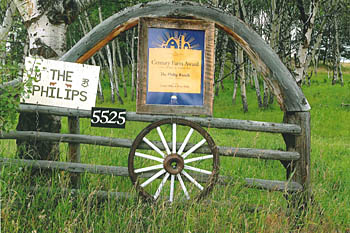 Gate to the ranch house.

It took approximately three years from the original proposal to dedication of the Warner Philip Conservation Area, because the NCC insists on having funding in place for both short and long term management. "There are costs, whether by purchase, covenant or land donation. There are legal costs, administrative costs and operational costs. We need to have stewardship funds in place, to have a specific endowment so we can look after that property in perpetuity." Barb explains. It took three years to raise funds for the Philip property.

There were no difficulties between the family and the NCC. "Connie and Peter had a very clear idea of what they wanted. It was easy to reach agreement. Connie wanted to make sure that whoever owned the land in the future would have to respect the values
Warner placed on it. She also wanted Peter to own it as part of the working ranch. "

What does the Nature Conservancy want? What do they look for? "Does it have richness of biodiversity? Do the plants and animals contribute? Is it connected to other conservation pieces? Is it one of our priority areas? Are the land owner's wishes compatible with our mandate? Can we fund it?"

Barb continues : "We always go with the landowner and look before we make a commitment. What species are there? Are they healthy? Are there stewardship issues; ie weeds? Will there be restoration problems?" The NCC always does a baseline inventory and survey of plants and animals on the property.

" Because of the family's excellent stewardship the Warner Philip Conservation Area contains a nice diversity of eco-systems and species. It fit very well with our mandate."

There will be on-going management discussions between the NCC and the Philip family as they work together on plans for grazing rotation, weed control, etc. Barb is emphatic that the conservation covenant does not take away any of the rancher's private land rights. What about predator control? Peter says predators have not been a problem. If they become one, he has the right to protect his cattle. In fact if a rancher who has previously allowed hunting wishes to continue it over the conservation area, it would be permitted. The benefit of the covenant is that it prevents the land from being broken up and alienated by development. To the question, 'What are you conserving?' Peter replies, "We're conserving the usefulness of the land. "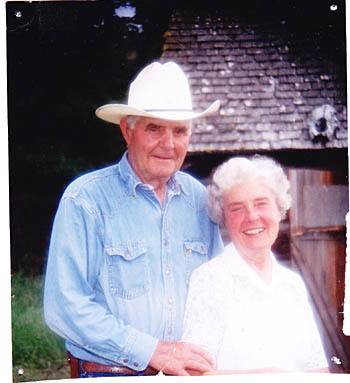 Warner and Connie Philip.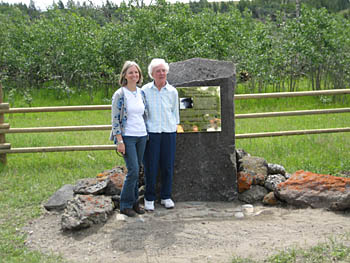 Barb Pryce and Connie Philip by the memorial plaque.


Barb sums up the past three years, "It has been a pleasure and a privilege to work with Connie and Peter."

Generations to come will thank them.





Other articles by Trudy Frisk