THE HORSE BARN
Story by Trudy Frisk
Photos courtesy of The Horse Barn

The Horse Barn, located in Kamloops B.C., is more than a store; it's an experience. Because it sells western merchandise, people might say it appeals to a niche market. The Horse Barn serves a pretty wide niche. "Where is your customer base?" I asked Tom Goode, manager and co-owner. "It's half to three-quarters of B.C., from Vancouver to Vanderhoof," Tom replied. He paused, thoughtfully. "Of course that doesn't include the Europeans who vacation here in B.C. every two years. They always come to buy something. We have repeat customers from Austria and Switzerland. We have customers from Australia. Every day of the year someone's in here from somewhere. We get calls from the Coast. We ship all over. We've shipped eighteen saddles to Europe."
When Tom's father, Bob Goode, bought The Horse Barn in 1991, there wasn't a saddle in sight. The Horse Barn stocked feed, fence posts, some tack, pet food and ranch supplies, such as horse shoes. In spring rabbits and baby chicks were available. There were no clothing, art, or gift sections. It was a basic agricultural supply store. There've been a lot of changes.
The Goodes knocked out walls, made the feed room smaller, and put in a place for Marlen Mason, a large animal vet. They also added more retail.
Today The Horse Barn includes an art and gift gallery, English wear, Western and English tack, and ranch and farrier supplies. Clothing was added in 1994. The store deals with such well known companies as Carhartt, Wrangler and Stetson, as well as others renowned for their quality products. Staff will special order items, which makes The Horse Barn one of the few stores where tall girls can buy jeans. The largest men's jeans they stock have a 40" inseam; they can order up to a 54" waist.
They carry products essential to the agricultural industry. There are horse shoes, bridles, and feed dishes, mole traps, fly and wasp traps, rakes, horse blankets, masks, ropes, saddles, saddle pads, and soggy dog seat covers. The variety of equine products includes shampoos and liniments. Feed is a steady item, with some highs and lows, depending on the season, whether farmers are feeding broiler chicks or fattening hogs. The Horse Barn serves the working agricultural community.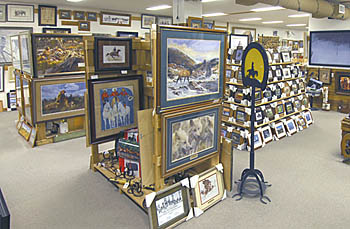 However, changes in agriculture meant The Horse Barn had to change too. "To appeal to more people, we had to broaden our products, and diversify in order to stay in business. " Tom says. Today the store has twenty-three thousand square feet of space, approximately four thousand of that is in the upstairs art and gift gallery.

The art gallery began in the mid 1990's. "At first it was just a few pieces of local stuff. It worked out good, so we just kept adding more." Tom recalls. "We stay with western and wildlife. We try to stick with local artists, and we carry reproductions. "
Robert Bateman, Arnold Mosley, John Schnurrenberger, Carl Brenders, Clark Kelly-Price, and Denis Mayer, are among widely recognized western artists whose work is displayed in the gallery. There are statues, leather pouches, and jewelry, some with First Nations motifs, many by local artists. Customers can also choose rugs, toys, bedding, cutlery and dinner ware with western themes. The Horse Barn is probably the only store where an engaged couple could buy their jeans, purchase blankets for their horses and chose a photo album and a western wedding cake topper for their wedding.
"The store is more of a visual experience than something that can be put into words. The art has to be good quality." emphasized Tom. "This is not a museum; if it doesn't sell, we can't keep it."
The Horse Barn stocks magazines for horse breeders and carries a number of books by western authors. In a move to attract new customers the store has sponsored events where the public could meet artists such as Robert Bateman or Arnold Mosley, hear First Nations poet Garry Gottfriedson read from his work, and discuss horses with artist/author Liz Mitten Ryan. A painting really comes to life when the artist explains how he captured the cloud of fine dust created by a moving herd. A poem's more stirring when the poet reads it with the emotion which inspired him.
Promoting the work of these artists and others like them is part of The Horse Barn's commitment to preserving ranching /agricultural culture. "Unfortunately Kamloops is losing its western heritage, and it's a shame." Tom states. "That's the reason The Horse Barn, to the best of our ability, supports anything that's agricultural in the community. We support the Cowboy Heritage Society and its Cowboy Festival, as well as rodeos and other equestrian sports. "

Persisting stereotypes about the cowboy culture often prevent people who aren't involved in ranching or riding from exploring The Horse Barn. "Probably once a day someone who never came in before comes in and tells us, 'I've driven by every day for years. I just had to know what you have in here.'" Tom comments. "It's hard to get people to come in here just for art. We always try to move with the times, to put up new displays and change things." New customers are surprised and intrigued by the variety of items available, and the attractive way they're organized.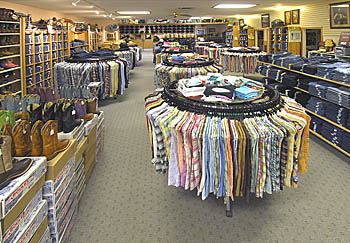 The Horse Barn itself is becoming an unofficial tourist attraction. Tom explains, "When many people who live locally have visitors from other countries they bring them in here to show them Canadian cowboy culture. Asian students from Kamloops' Thompson Rivers University often come here to take pictures they can send home. The Horse Barn welcomes everyone from every walk of life."
It takes a lot of people to look after such a diverse customer base and selection of products, especially since the store has very different sections. There are eighteen staff, in total. Eight are required just to open the store. "You, being manager, must know every item offered for sale.", brings a laugh from Tom. "Nobody'd ever know everything that's in here. I oversee the store, but I take people's word on things. Some staff are specialists, and they're a great asset. Some have never been around a horse in their lives; others have experience with cutting horses and a lot of different equine disciplines. Staff initiate ideas for displays. Wendy Moore designs our calendars." (Those calendars, featuring artists displayed in the gallery, and including witty cowboy sayings have become collectors' items.)
Ashley Robertson, in the art gallery, moved here to work at The Horse Barn. "I'd never been in, but I'd heard lots of things about it. I came in, though, and now I'm working here!" She's a contrast to Flint Bondurant who was hired just before Xmas. "I worked at guest ranches in the Cariboo, so I've been coming into the store for years. "
Staff concur "It's fun. Customers are great. Ninety-eight percent of them are always having a good time. "
Customers whole-heartedly agree. Roger Hicks and his horses live in Valemount, four hours north of Kamloops. When his work takes him to Kamloops he shops at The Horse Barn. Asked his opinion of the store, Roger replied, "They're good people. You know who you're dealing with. They have lots of stock. You can stop there and buy everything you need, jeans, shirts, everything. I buy all my oats there, and I can buy Senior Feed for Jimbo, (his twenty-seven year old retired race-horse). I get horse blankets there. They have good stuff." He paused, then added, "And I bought my pictures there. "
The Horse Barn's variety of supplies and its support of local artists and agricultural events make a special contribution to maintaining western ranching culture.
Its reputation is also recognized outside the agricultural world. Recently a fellow at a Kamloops restaurant was heard advising his friends to use liniment for back pain. "I put it on lightly and, after half an hour, the pain's gone. You get it at The Horse Barn." This man doesn't even own a horse. It doesn't matter. He knows where to get what he needs.

Other articles by Trudy Frisk