WINTER FUN
WINTER FUN
Story and photos by Trudy Frisk
As I peered like a furtive groundhog into the winter darkness, trying to determine if the predicted storm had arrived, I tried to recall a time when "snowstorm" meant more than treacherous roads, driveways to be cleared and roofs to be shoveled. Shouldn't there be some fun in winter?
"Skiing and snowshoeing" I hear you say. Yes, I've enjoyed both sports all my life. However, in these days of poor or non-existent road maintenance, just getting to the hill can be a grim challenge. And, can you really enjoy gliding along the trails while keeping the tow truck on speed dial?
We may have to find the good in snow without leaving home. Well, snow covers a myriad of summer obligations. It doesn't have to be weeded, watered or mowed. It's egalitarian; snow falling on our neighbour's yard pretty much resembles that falling on our own, thus eliminating the lawn and garden competition.
Snow could be a reason to stay home and sit by the fire with a good book or Internet connection. Winter is down time, relaxation time, mend the harness and meditate time. Unless, of course, you have my circle of friends; people to whom the orange storm warning filling their TV screens is an invitation to immediately take a drive in the country.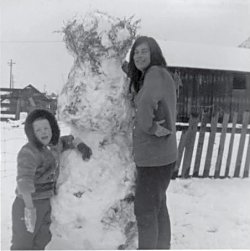 Kurt and Trudy Frisk with their
straw/snow man

These folks would have crewed for Franklin, delighted to go on an Arctic adventure where boiling their boots for breakfast would be considered a hearty start to the day. Any announcement of mine to these urbanites that I'm not driving into town on a winter's night over roads so slick Wayne Gretzky would give them two thumbs up, is greeted with hoots of derision. Supporting evidence that an embarrassed semi-trailer is lying on its side at the first traffic light, with its wheels spinning and blinkers flashing is scornfully brushed aside as evidence of weakness. To heck with them. Stay home if f you want to and enjoy the snow.

Go for a moonlight walk and notice how snow changes the landscape, giving it new visual and acoustic dimensions. See the way it reflects back the moon's glow and outlines familiar objects with sharp clarity. Or use it for nature study. Your snowy yard will show tracks of passing animals; coyotes, local cats and those pesky deer sizing up possibilities for spring munching.

Express your creativity in snow igloos, forts and snow men. Good luck with your igloo. My siblings and I never could get the key roof block fitted onto any of ours without the entire structure crumbling. As for forts; snowballs and snowball fights are now forbidden on Canadian school grounds, but no one's yet outlawed snow forts. Happy building.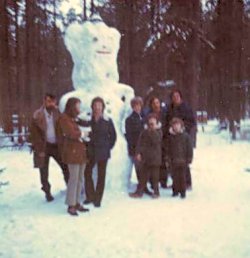 It takes a family: Hicks, Pitts and Frisk families and Super Snow Person

Snow men, er, persons, are where winter sculptors excel. These figures range from the basic three round balls of snow with coal eyes (or the latest synthetic substitute), to truly inspired characters with more artistic merit than I've noticed in many art gallery displays lately. Snow people inspire the amateur artist in all of us.

Children naturally relish snow. Not only are they uninhibited; they're closer to the ground where the snow is. To truly enjoy it, we adults must do as children do. I once explained snow angels t o a new Canadian from a tropical climate. She was enchanted. That afternoon her Canadian-born husband found his bride lying in their snowy yard gleefully swishing her arms in angel patterns, convinced that both snow and Canadians were more fun than she'd thought. Let's not disappoint her.




Other articles by Trudy Frisk