CULTURE AND COUNTRY LIFE
CULTURE AND COUNTRY LIFE
Story and photo by Trudy Frisk
It happened again last night. A group of sophisticated city people denigrating small towns as uncultured. Apparently any previous education or natural sensitivity vanishes once a person leaves the city limits. Rural dwellers revert to rural habits; chewing and spitting, kicking tractor tires, walking chickens.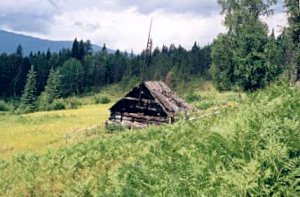 Remote Cabin with Radio Antenna
Yet the very first classical music I ever heard was played by a concert pianist on a grand piano in a large log home three miles from our little town. That home, owned by a cowboy from Utah and his Calgary-born wife, had no electricity Ėbut pianos donít need any. Since roads into our valley were well nigh non-existent, both the piano and the musician playing it had come by train. (The piano was staying.) From our seats near it we gazed out a large bay window, over a meadow stream with beaver dams, to the sunset glowing on the peaks of the Premier Range. The clear notes seemed as majestic and timeless as the mountains.
Years later, a new bride in an even smaller town, I was asked by a young Shuswap neighbour if I liked music. Could he bring over some of his favourite records? Of course. That afternoon we reveled in Edvard Greig as the lilting melodies of Peer Gynt floated across sagebrush and prickly pear.
Itís wise to be wary of uninformed assumptions. The belief that people who do physical work are strangers to artistic feelings would have annoyed my great-grandfather, a professor of music from St. Petersburg, who ended his life as a farmer in Manitoba.
To First Nations people art is an integral part of everyday life. So it was with emigrants from other lands to whom music and literature were important whether they lived in a busy city or on a country homestead.
A friend of mine grew up in New York, where heíd play truant from school to go hear the Metropolitan Opera. Now, I wonít lie to you, I envy him. Hearing a great performance live is an unparalleled experience. Thereís a certain energy, a critical mass, when people gather in large numbers for a play or concert. But, we made do with what we had. And, we, too, had the Met.
Early settlers couldnít visit concert halls but radio brought the music to them. In lamp-lit prairie farmhouses or isolated woodland cabins families listened as the Firestone Hour broadcast symphonies across vast distances. The Texaco-sponsored Metropolitan Opera, (the longest running sponsorship in the history of radio), brought North Americaís finest singers and musicians to music lovers in remote homes.
For lighter fare, who could forget "Hawaii Calls", a program which instilled fascination with the tropical island in an entire generation? As traditional Western content nothing beat "The Prairie Schooner". Sponsored by the Rawhides and Fur Department of the Hudsonís Bay Company, the Schooner featured music of the early west. Every Saturday waltzes, polkas and lilting cowboy songs wafted across the country.
Wandering among old, abandoned homesteads, Iíve been impressed by the high wooden antennas attached to most of them. Those pioneers may have lacked some comforts but they were determined to have their radios. And, no wonder.
Those radios offered plays, mysteries, comedies, hockey games, connection to the larger world many settlers knew well. Down the decades rural areas have represented both opportunity and refuge; a chance to own land and prosper, or freedom from restrictive society. You never know who you might meet in the country. In every era many homesteaders were traveled, educated people.
Letís not forget the important contribution of country school-teachers. A new teacher was a beacon to every unmarried farm lad. Courted by an assortment of scrubbed, combed, hopeful, young fellows, the teacher was soon lured into marriage. She learned farming or ranching ways, and the family into which she married benefited by her education. Hard on rural school boards, but good for the communities.
Settlers valued a good education and many brought their libraries with them. Iíve been in homes in isolated valleys where the depth and scope of the personal library put some municipal collections to shame. On my own book-shelf is a translation of "The Meditations of Marcus Aurelius", a gift to my mother from a newcomer whom sheíd befriended. In early days mail came by train. Newspapers from Vancouver and Edmonton were only a day old when we received them. Provincial libraries had a province wide lending program. Subscribers could borrow six books at a time, on a variety of topics including all the great classics. There was no cost; in fact the library in Victoria included free postage for their return. Our family doted on that library.
Rural residents, long before T.V., were quite familiar with the doings of their fellows and their conversations reflected it. I wonder if an equal number of city dwellers, chosen at random, would be as informed about literature, politics and art as the people of my childhood little town?
Surely the ability to make music should count as culture. Almost every small town had its homegrown band. The players might have been amateurs, but their performances on fiddle, banjo, piano, accordion or saxophone, kept dancers twirling till dawn.
Those small bands have almost disappeared now. However, other traditions continue. On the spot where I heard that grand piano, a violin recital is held twice a year. "Violins in the Valley" itís called and itís well attended. A PhD in music sings with the local choral group in my old home town.
Today I live near a city with a professional theatre company and a symphony. When I glance around the audience I note members of local ranching families who, for generations, have been combining country life with cultural appreciation. The best of both worlds, we think.
Other articles by Trudy Frisk